Pine Bark Extract
---
[Product Name] Pine Bark Extract
[Latin Name] Larix gmelinii
[Used part] Bark
[Active ingredient] OPC
[Specifications] OPC 95%
[Product appearance] Brown Powder
[Solubility] Dissolve In Water
[Efficacy] Pine Bark Extract from the antioxidant capacity of Proanthocyanidins
(oligomer proanthocyanidins) (OPCs), the substance for the antioxidant
capacity of 20 times the vitamin C, vitamin E of 50 times. OPCs as
well-known antioxidants can effectively suppress the role of free radicals,
and free radicals in degenerative diseases, cardiovascular diseases, blurred
vision, sunburn and premature aging, such as playing an important role.
[Testing Method]UV
[CAS NO.]133248-87-0
[Packing type] Enterprise standard. Cardboard drum or carton, 25kg/cardboard
drum(carton), 2.5kg/bag, double vacuum packing inside.
or according to the customer's requirement
[Storage Condition] Store in cool & dry place, keep away from strong sunlight and
heat.
[Period of validity] 36 months ,when properly stored.
DaXingAnLing Gadol Sports Ingredient Co.,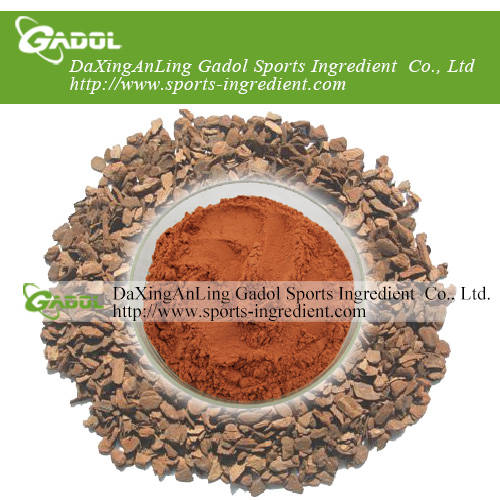 ---
New supply information
---
---
More supply information
---
Edit Pine Bark Extract
Recommended Professional Manufacture ››
Show 28 Comments
Other Plant Extract in "P":
Physcion Powder
,
Perilla Leaf Extract Powder
,
Polydatin Powder
,
Piperine Powder
,
Paclitaxel Powder
,
Puerarin Powder
,
Paeoniflorin Powder
,
Paeonolum Powder
,
Pine Bark Extract Powder
,
Pomegranate Extract Powder
,
Punicalagin Powder
,
Paeonia Lactiflora Extract Powder
,
Pyrethrum
,
Pumpkin Seed Extract Powder
,
Phyllanthus Emblica Extract Powder
,
Passiflora Extract Powder
,
Polygonum Multiflorum Extract Powder
,
Policosanol Powder
,
Passion Flower Extract Powder
,
Pepperweed Seed Extract Powder
,
Pilose Asiabell Root Extract Powder
,
Piceid Powder
,
Panax Notoginsenosides Extract Powder
,
Pinellia Tuber Extract Powder
,
Polygala tenuifolia Extract Powder
,
Psoralea corylifolia L. Extract Powder
,
Pygeum africanum Extract Powder
,
Podophyllotoxin Powder
,
Potentilla anserina L. Extract Powder
,
Purslane Extract Powder
,
Palmleaf raspberry fruit Extract Powder
,
Pomegranate Hull Extract Powder
,
Phosphatidylserine Powder
,
Polygonum Multiflorum Thunb Extract Powder
,
Polygonum Cuspidatum Extract Powder
,
Pregnenolone Powder
,
Pterostilbene
,
Pterocarpus_santalinus_extract
,
Piceatannol CAS NO.:10083 24 6
,
paederoside CAS NO.:0547 45 9
,
paederosidic acid CAS NO.:18842 98 3
,
polyacrylamide
,
protopanaxadiol
,
protodioscin
,
Phosphatidylserine
,
poria cocos extract
,
perluxan hops extract
,
PhylisVxz
,
PhylisWus
,
PhylisWmz
,
PhylisQsu
,
PhylisHst
,
PhylisRwg
,
PhylisWfa
,
PhylisHlf
,
PhylisOjr
,
PhylisWkz
,
PhylisTla
,
PhylisDze
,
PhylisAip
,
PhylisMoa
,
PhylisMqj
,
PhylisUgq
,
PhylisDno
,
PhylisJkm
,
PhylisQiy
,
PhylisVck
,
Palmatine_hydrochloride
,
PhylisFpn
,
PhylisVeo
,
PhylisKrl
,
PhylisLlk
,
Producer_of_virgin_argan_oil_From_Morocco
,
PhylisSor
,